Let's be honest, the last thing I want to think about is going back to work and even though I've been begging August to just hold off for a few more weeks it still showed it's bright sunny face this morning and told me to deal with it. So I guess I'm going to have to. A little something that is helping me ease back into the thought of rejoining the working world is this awesome fundraiser my sister is doing. She is a Thirty-One consultant and is hosting a Back to School Fundraiser. It's a nice little way to give back to the schools and students in need as they dread ending their summers as much as the rest of us.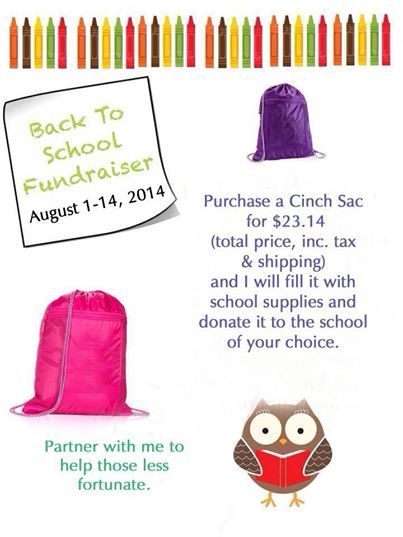 The fundraiser is simple, I'll even break it into steps for you:
1. Click on this link:
https://www.mythirtyone.com/shop/productdetail.aspx?prod=4221
2. Purchase a Cinch Sac in any color you want!
3. Click the box to have it sent to the host. (my sister)
4. If you have a specific school you would like it donated to
leave her a message here
. Now your job is done!
4. She will fill it with school supplies and donate it to the school of your choice.
5. The schools will give the backpacks filled with supplies to their students in need.
The fundraiser is running until August 15th so that she has time to fill them and get them to the schools in time for their welcome nights and before students start. Her goal is to have 7 Cinch Sac's donated per day. If you don't have a specific school in mind but would like to help out students in need I very conveniently happen to be a teacher and know many students who could use the help. :) If you don't specify a school she will be donating them to my school and my aunt's school who also has many students in need of backpacks and school supplies. So, let's help her reach her goal and help out our local schools!
Thank you for taking the time to check this out. Now go enjoy the remainder of your summer! :)
Oh and P.S. I have a Cinch Sac that I use when I go biking and I love it!